We love to talk about ourselves!  And by us, I mean Unique Catering Design.  There are so many wonderful and interesting parts to our company and we look forward in the UCD blog to sharing these with you.  As well as the interesting moments and lessons we learn along the way.  We find us interesting and entertaining and hope that you will be as well!  
The members of the Unique Catering Design team quickly become family.  It is amazing to share our dream and our passion with such like-minded people and we are so genuinely privileged to have each team member that creates and collaborates and works so hard to bring the visions from our clients to become a reality.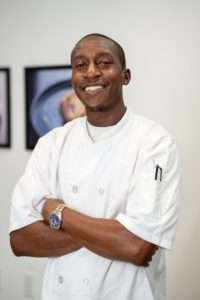 Shawn Henry has been with us as Executive Sous Chef for the last year and was a rock throughout the recent changes to the business and continued to run the kitchen and the team alongside Giovanni without waver.  Chef Shawn's professionalism is one of his many attributes that we appreciate – and now to tell you a little bit more about this former Olympian turned chef!
I know, you want to know about the Olympics….but there are also celebrities too….let's start from the beginning though.
We asked Shawn what he would like to share about himself and this quote had to be included up front.  'I finally feel like I am getting somewhere.  I can be myself and get to be creative.  That I will be able to leave my mark on Miami.' – Shawn Henry
Born and raised in the US Virgin Islands he started out as a dishwasher.  He then worked at a breakfast diner, which was a big influence on Shawn.  At the age of 18 he ran  his first restaurant Dashi Sushi, in St Croix.
After Dashi Shawn moved to Austria, Innisbruck for 2 summers and 2 winters.  This is where he fell in LOVE with food.  'Food is developed differently in different countries and I learned so much from this experience.'  Shawn began his training for the Olympics on the Skeleton in Austria.  He made the trials for the Salt Lake City 2012 Olympics and left with his coach, who also competed in the 2012 games.  When asked 'Why the skeleton?' he responded, 'Loved the rush!'.  'Nuf said!
His love of the ocean, boating and the desire to succeed in the culinary arts brought him to Miami.  Shawn opened Meat Market with Sean Brasel and then went on to work at Kitchen 305 at the Newport Beachside Resort, opened Wynwood Kitchen and Bar and then Red Rooster with Marcus Samuelsson for 3 years before making the move into offsite catering with Constellation for 8 years.  He has also had the privilege to be a personal chef and personally provide catering to a number of celebrities including, the Marley family (side gossip – he lived with them in the guest house for a while, yup that happened), Rick Ross, Bobby Smerder and Hassan Whiteside.  And just last week for Swae Lee son's first birthday, for whom Shawn has become the go to chef for the rapper.
Shawn says, 'Catering is the best industry to be in as it is ever changing and it's a challenge and I love a challenge.'  We are so happy Shawn has found a space to spread his wings even further with Unique Catering Design.  Chef Giovanni and Chef Shawn are spending their time between events in the newly opened Test Kitchen that we opened just a few doors down from our commercial kitchen and the collaboration for new dishes and ways of service has been fun to watch!  
A small island native, to skeleton training in Austria, an Olympic hopeful, a Chef with celebrity chefs and celebrities alike has made Shawn dynamic, focused and talented – watch this space there is so much more to Shawn!  One of the Unique Catering Design family!
Wait!  We forgot to mention he is handsome too ladies!